Long-Listed for the 2022 Page Turner Awards Book Award
Short-listed for the 2022 Chanticleer Reviews Goethe Award for Historical Fiction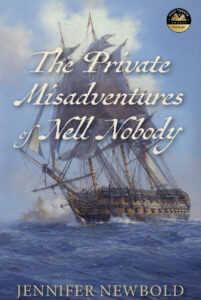 THE PRIVATE MISADVENTURES OF NELL NOBODY
It is 1793, and France and Britain are at war.
Traumatised and grieving the loss of her infant son, Eleanor Buccleuch leaves behind her previous life, dons waistcoat and breeches, and becomes Ned Buckley. Ned enlists in the British army and vanishes amongst the soldiers of the 69th Regiment of Foot.
Sent to the Mediterranean, Ned is pulled out of his squad and assigned to work with a zealous Royal Navy captain named Horatio Nelson, who is goading the army to besiege the Corsican town of Bastia.
Ned becomes a participant in momentous events of victory and defeat, forming an unlikely friendship with the man who will one day become Britain's greatest naval hero. But even as he witnesses Nelson's trajectory towards immortality, Ned's past is stalking him, threatening him with a downward slide into discovery, ignominy, and the prospect of his own destruction.
On Wounds of Woe
Eleanor Anson begins a new life in turn-of-the-century Gibraltar.
A woman with an unusual past, she has participated first-hand in the war against the French, and has the scars—both physical and emotional—to prove it. Suddenly a property-owner, a businesswoman, and a new mother, she believes her life to be settled and her future course set.
But with Napoleon rising to power in France, her world will not remain at peace. Nell finds herself tossed back into the storm of war in the Mediterranean. With a tenuous alias, an unlikely partner, and a young child, she must navigate the rough seas of the French invasion of Italy. A chance encounter with someone at the eye of the storm reopens old wounds, and Nell must make some life-or-death decisions—lives not necessarily her own.
The Taste of mead and ashes
The last book in the trilogy, currently in progress. Embittered and displaced by war, Nell must fight to recover a lost life… and a chance at her own redemption.
Delighted to make your acquaintance
I hope you're a reader. Because I have ideas to share.
My genre is historical fiction, but truthfully, I'll write whatever fires my imagination. Some of it may even see print one day. The thing is, I'm kind of particular. Like those guys who would sell no wine before its time, I won't publish a work until I'm convinced it's ready for you.
The Eleanor Anson trilogy is in the pipeline already, though, with the first book now available on Amazon.com, Nook, Apple Books, and at retail bookshops. The second book of the series will be released in 2023. And if you subscribe to my newsletter, I'll send you the novella The Maid and the Mid, A Supernatural Sea Story. Free and exclusive; this is the only place you can get it.
Check out my blog, too. I'm not quite as meticulous about the stuff I post there, but I hope you'll find something to like. And I'd love to hear from you, so please do post comments!
Welcome to my worlds. I hope you will enjoy spending time here as much as I do.