What colour was Lord Nelson's hair?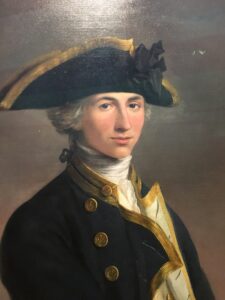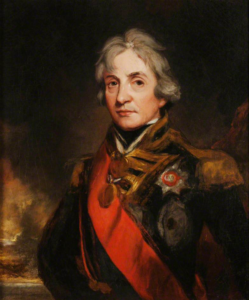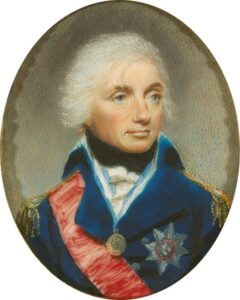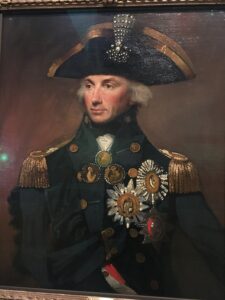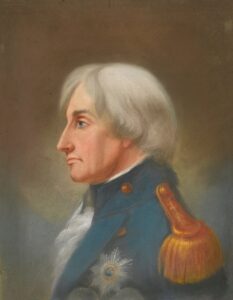 Artists overwhelmingly portrayed Horatio Nelson as having white or grey hair. Even the portrait by Rigaud, painted when Nelson was a young man of twenty-two, would suggest that his hair was unnaturally pale for his age.
Speculation abounds. I am going to relate here some things I learned about human hair colour when considering what colour Lord Nelson's hair might have been. Of course, I will qualify this by stating that I have not read everything that has ever been written about Nelson. It's possible that I could live another fifty years and still not have read everything, so much has been written about Nelson and his life. But this is based upon what I do know.
Some things about Horatio Nelson's life are indisputable. He suffered at least three very serious illnesses during his lifetime, one in the West Indies, a year before the Rigaud portrait was painted; another following the amputation of his right arm in 1797; and a third after having been hit in the head by flying debris at the Battle of the Nile in 1798.
During this period of history, both men and women often powdered their hair for formal appearances. Nothing that I have read suggests that Nelson wore powder. The practice waned during his lifetime, and by the beginning of the nineteenth century, wigs and powder were worn almost exclusively by old men with one foot still in their youth, and the other… well, you get the picture.
When he was young, Nelson was not a follower of fashion; in fact, it might be fair to say that he was oblivious to it. Prince William Henry, the 'Sailor King' who became the Duke of Clarence and eventually King William IV, on his first acquaintance with Nelson, remarked on the captain's old-fashioned waistcoat, unpowered hair and long 'Hessian' queue, which he found incongruous in this 'merest boy of a captain'.
Nelson habitually wore his own hair. The only mention of him wearing a wig was during a period of illness in Antigua, when his own hair apparently thinned dramatically enough to offend his vanity. If we are to believe Cuthbert Collingwood's drawing, it was not a particularly flattering 'yellow' wig. Presuming that Nelson chose a wig approximating his own hair colour, I conclude that his hair was not white at the time.
So what colour was his natural hair?
There are several samples of hair believed to have come from Nelson's bequest of his hair to Emma Hamilton at the time of his death. I have not studied the provenance of these, but as all of the ones pictured below are in reputable museums I'll take as given that they are authentic, until someone proves otherwise.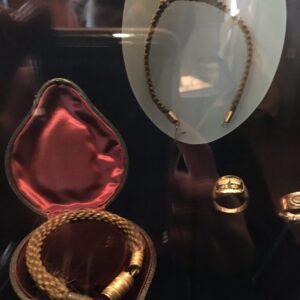 The first three photographs are from an exhibit at the Museum of the Royal Navy in Portsmouth, UK. These pieces of jewellery were made from Nelson's hair.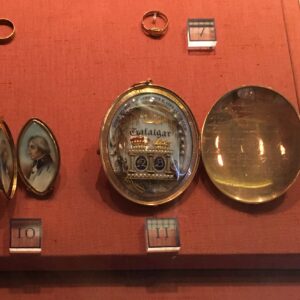 The photograph below was taken at Buckler's Hard Maritime Museum, at New Forest in Hampshire. It is also Nelson's hair.
While these are not the clearest photographs (as I took them myself, apart from the one in the lower right) they convey accurately the hair colour. If you get a chance to see the jewellery in person, you'll be able to appreciate the artistry with which they were made.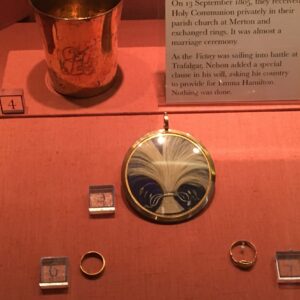 The brooches above and to the left were commissioned by Emma Hamilton, incorporating Lord Nelson's hair.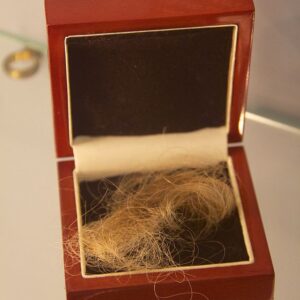 BUT… what about Nelson's pigtail, in the collection of the National Maritime Museum in Greenwich? It appears to be auburn! You can view it here: https://collections.rmg.co.uk/media/2/151/942/l7160.jpg
Something happens to hair as it degrades. All human hair colour is determined by two different types of pigment: eumelanin and pheomelanin. Eumelanin is brownish black, while pheomelanin is reddish yellow. The amount of each pigment determines a person's hair colour. Blonde hair reflects an absence of black eumelanin and a low level of brown eumelanin. Pheonmelanin provides red/orange tones.
Everyone, regardless of hair colour, has some pheomelanin present in their hair, and pheomelanin is a more stable pigment than eumelanin. Eumelanin oxidises more rapidly than pheomelanin, especially under humid conditions. So depending on where and how the hair was preserved, and how much oxidation has occurred, hair samples from the same person may appear to be different colours! (This is not a reflection on the National Maritime Museum, by any means. Who knows how well or poorly the hair was preserved before they acquired it?)
If you look at the hair colour of preserved mummies from antiquity, they all appear to have had red hair. Highly unlikely. What we are observing is the result of oxidation.
What then, explains all those portraits of Lord Nelson with white hair?
Anecdotal evidence maintains that stress hormones can cause hair to lose its pigmentation. Recently, scientific studies have seemed to confirm that. Nelson certainly operated under an enormous amount of stress for a good portion of his life… but then how could his hair in the examples above be a sort of sandy blonde? Doesn't hair that has turned white remain white?
Not necessarily. In a peer reviewed paper of 2021, a group of scientists documented the reversal of loss of pigmentation in relation to stress. (You can read that paper here: https://www.biorxiv.org/content/10.1101/2020.05.18.101964v4) So while Nelson's hair may have turned white in response to extreme stress, when the stressors were removed, he could have regained his natural hair colour. Could this happen more than once? I suppose, conceivably, it could.
Last of all, there was a tendency for portrait artists to portray what people expected to see. A friend of mine who is an excellent portraitist deplores the fact that in more than one of the state portraits painted of Nelson, the artist has rendered him with brown eyes. (His eyes were blue. He said so himself.) So if the artist thought that people expected to see the Hero with white hair, that was what they painted.
All speculation, of course.
5 June 2023 — I wanted to make an addendum/correction to this article. I read recently that when Nelson gave away the coat he wore at the Battle of the Nile, he commented that it was stained with his blood and hair powder. So… I was wrong about him not wearing hair powder. He did, at least some of the time.